Have you ever wondered "When do babies learn colors?" And what methods can be used to teach your little ones the basic shades and colors in an effective way? According to the studies, babies begin to identify multiple shades of colors after a few months of their birth.
Children at this age are always curious about learning new things. It is notable that children, especially those who are at their initial stage of life, can learn colors and shapes better since they are always on the move and excited to learn new things.
4 Basic Tips To Teach Toddlers Colors And Shapes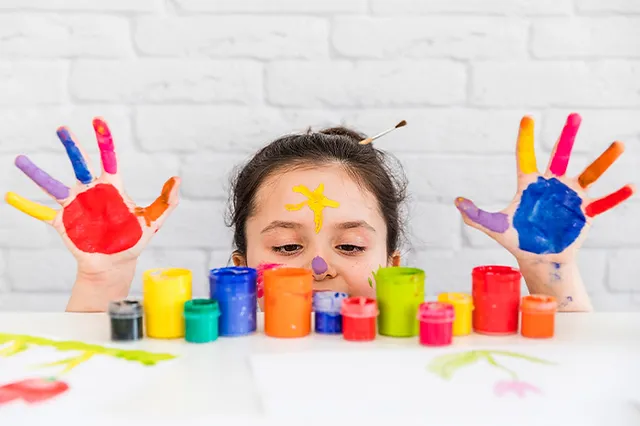 The ability to learn colors in children depends on their learning skills. Some toddlers can learn faster than others. However, teaching colors to toddlers would be more effective during fun and play. Fun activities can be used as an effective teaching method for children. 
Here are given some other tips that can help you to make your children learn colors and shades easily.
Drawing
Drawing can help in learning as well as the development of a child. Children during the initial stage of their life can be pleased with the natural process of drawing. Plus, they will learn different shades of colors and then will be able to use these shades in a drawing book.
Color Activity
Coloring activities can make it easier for toddlers to learn colors. To make this happen, you can arrange some coloring books with colored words.
Colorful Objects
You can also arrange an activity in which you can teach the names of the colors to your children. It can be more effective if you use specific objects for color identifications.
Color Code
Children who are not able to memorize the names of the colors can learn better during fun and play activities. Buy some candies of different colors and with the help of a specific color code, you can ask the toddlers to choose a blue lollipop, orange ball, red jelly, etc.
Best Age For The Toddlers To Learn Colours
Children at their initial age are more aware of their surroundings. They can sense and observe everything that happens around them. Do you know "When Do Toddlers Learn Colors And Shapes?" or are you aware of the best age for children to learn colors or shapes?
In case you do not know When Should Toddlers Learn Colors or what is the best age for babies to learn colors, it is important to figure out the best age for them to make their learning process more effective. 
Toddlers after 4 months of their birth become able to identify and differentiate between different colors. During this stage, they become able to pick up objects of different colors. Most babies get the ability to recognize multiple shades within 2 years after their birth. Besides, Black, white, and grey are the basic three shades that significantly become visible to toddlers when they are around 5 months old.
What Age Is Best For Toddlers To Learn Shapes?
When toddlers are at the age of 3, they become able to recognize the shapes. The process of learning shapes can take more time as well as it can be modified depending on the learning ability of the toddler.
Since we know that the ability to learn in babies significantly improves during the initial years of their life, when a baby is around 4 months old, he/she can view different shades of color.
Moreover, babies, especially when they are 5 months old, can get into a deep perception of everything that happens around them. A 5-month-old baby can observe all the movements occurring in his surroundings.
Babies, when they are less than 5 years old, can better learn things than those who are older. Such toddlers are always enthusiastic to learn new things. Have you ever noticed when do toddlers learn to count? Or what age would be suitable to make your children learn such complicated stuff?
Well, most of the time, babies who are around 1 to 2 years of age can learn multiple things including colors and numbers better than those who are seniors.
Issues Children Face During The Process Of Learning Colours
Some factors related to the toddler's learning process including their age, capacity to learn, and environmental elements that influence the learning process should be kept in mind. Knowing these factors can help your children to learn better.
Development Issues
Some children can face developmental issues such as difficulty in pronunciation, confusion about shades, and recognition of different objects.
Color Blindness
Some children may have color blindness. Color blindness is the main factor that can influence the learning process.
Autism
The other reason for dealing with learning problems is Autism in some children.
Conclusion
Though learning can be a complicated process for both children and parents. Some parents might face difficulties teaching their toddlers both the colors and shapes. However, by learning some effective tips, they can help their children to learn faster than others. 
Looking at different objects, observation, and eye movement are the most common learning methods in babies especially when they are less than 5 years old. Thus, teaching children at their initial stage would be easier for you. You can also follow some tips to make the learning process easier for you and your children.