Cycling is such a fantastic way to improve physical and mental health. It helps to boost cardiovascular development, balance leg muscles, and strengthens bones!
When it comes to kids, they love to learn to cycle and love the feeling to ride a bike. Being a parent, you should realize that sometimes riding a bicycle can put your kid in danger. They can fall off or smash some stuff for the first ride. But you cannot stop them from growing, making mistakes, and learning new things. You can reduce the risk and minimize the harm by following common precautions and steps.
Thinking about how to teach riding a bike for kids?
Don't worry; we've got you!
We will tell you some amazing facts about riding a bike with your kids, and they will surely help you as a parent. So, let's get into it.
Balance Is Important
Have you wondered how confident your kid would feel if he/she achieved the satisfaction to ride a bicycle for the first time?
But balance is the key!
Training wheels might not be suitable for your kid as they can be titled and be off balance often while riding the first time. You can buy a balance bike for your kid, and the main reason is to teach him how to keep a normal balance while riding because balance seems to be the toughest part of learning how to ride a bike.
Here's how you can simply turn training wheels into a balance bicycle for your kid:
Firstly, remove the pedals
Leave the crank arms
Properly set the seat height according to your kid
Let your kid sit and walk
It would be easier for the child to sit and walk on a pedal-less bicycle, and he can learn how the wheels work.
Read More: Why should you plan fun activities at home for kids?
Street Must Not Be The First Place
Let your kid feel free and enjoy the first ride even more. For this, the street is not the appropriate place. Think of any other comfortable environment, like a park, parking lot, empty trail, etc.
Choose The Right Fitted Bicycle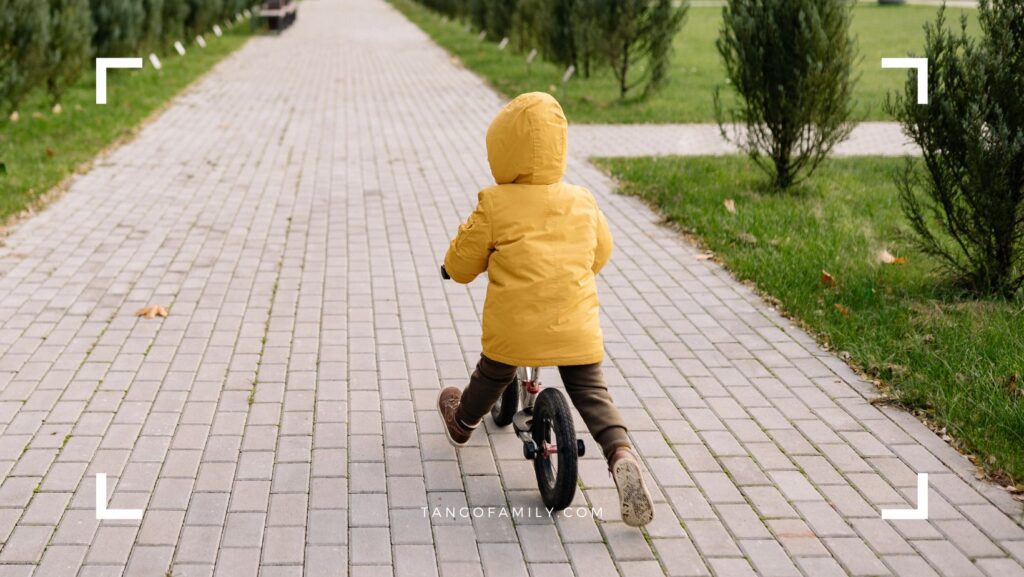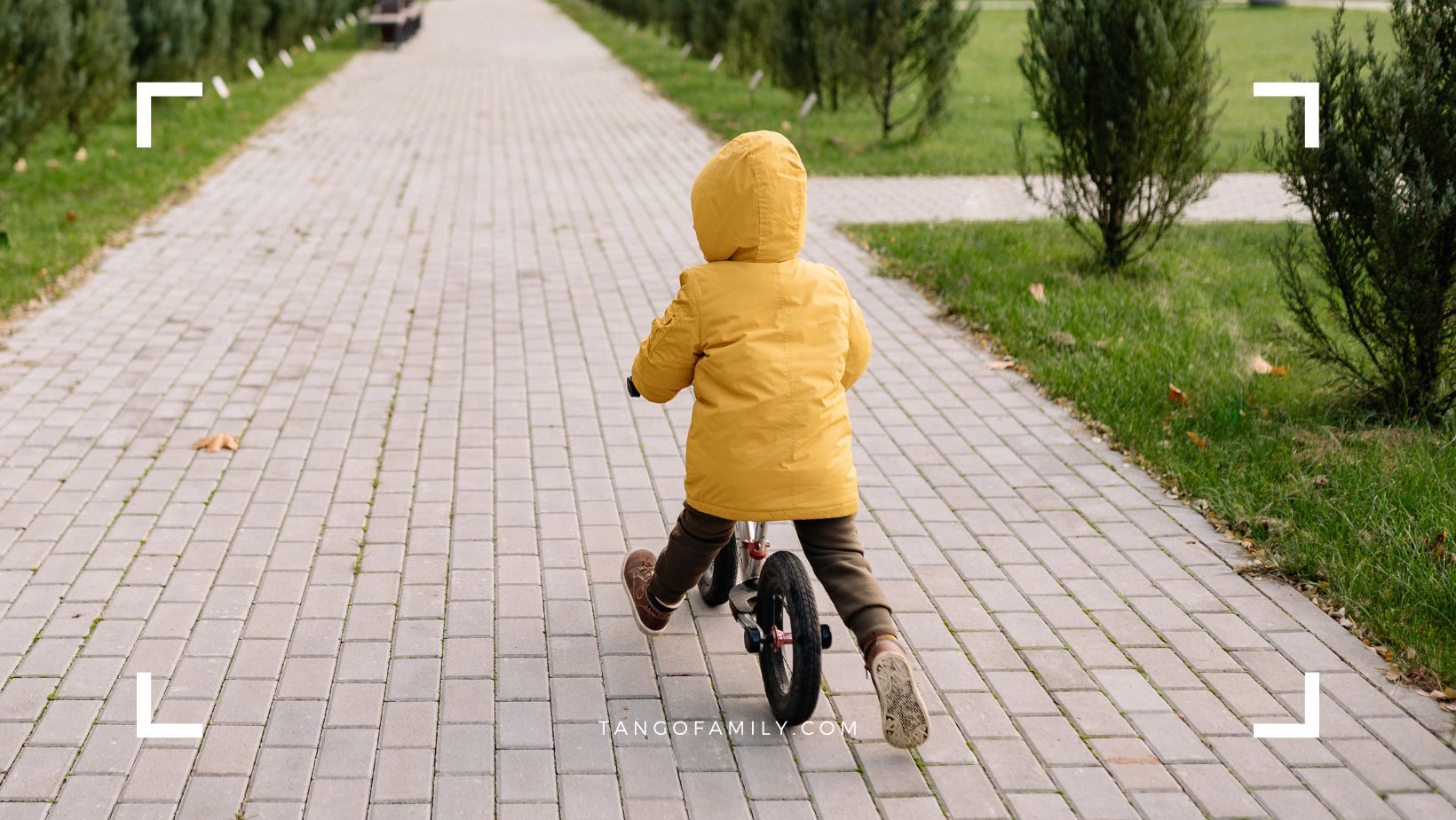 Find a bicycle they can undoubtedly stand over without connecting with the top tube and contact with the handlebars without stressing. Get them a fair bicycle fit, so everything is set up appropriately.
After knowing their height, here's how you can measure your kid for a properly sized bicycle:
Tires ranging from 12″ will be great for kids between 28″ & 38″.
Tires ranging from 14″ will be great for kids between 36″ & 40″.
Tires ranging from 16″ will be great for kids between 38″ & 48″.
Tires ranging from 18″ will be great for kids between 42″ & 52″.
Choosing the right bicycle for your kid is crucial in teaching him how to ride a bike properly.
Related: How does Games for 1 year olds help in growth?
It's Alright To Hold, Push, And Run Alongside
If your kid doesn't want to ride a bicycle, don't drive it. Ease off and afterward talk with them about the disappointing things and what appears to be troublesome. Remain positive. Try not to apply pressure. Furthermore, keep at it. Maybe put some goal for them to attempt consistently. Reward their attempts.
Figuring out how to ride a bicycle takes practice, and (like running) consistency will have a major effect. When they figure out how to push the pedals accurately or potentially balance, you'll see a strong rise in their certainty on the bicycle. And having your kid ride a bicycle close to you on your runs is a brilliant movement and is one more method for showing them the benefit of being dynamic, stable, living, and outside. Yet, it very well may be interesting for your kid.
Read More: Best online magazines for kids – What to pick and what not?
Don't Forget About Safety Precautions
Before moving to the bicycle, experts suggest doing a detailed maintenance check. Ensure the tires have sufficient air, test the brakes, and, in the event that the bicycle has a chain, ensure it's on and moving flawlessly when the kid pedals. Likewise, properly look at your kid's cap to guarantee it fits appropriately.
Some rules must be followed by your kid while they ride a bicycle.
Kids should constantly remain on one side as they ride.
Kids should constantly guarantee they can see their parents.
Kids should not ride their bicycles excessively far ahead.
Kids should constantly pause and sit tight for their parents at traffic signals, crossing points, and stop signs.
Let Your Kid Take Breaks, Slow Down, And Have Fun
Begin with a brief distance, like around the block. Furthermore, keep going slow. The objective is for your kid to become acclimated to riding with you as you run. You might run quicker than they ride, or they might ride quicker than you but don't expect your child to ride 5 miles in the first month.
Having the option to run while your children ride their bicycles is an extraordinary time that holds a valuable chance to maintain your relationship with your kids.
Plus, remain positive on the off chance things don't work out as expected: Assuming your child falls, skins his knee before you even begin, and will not continue onward, that is fine. Remain positive!
How To Manage If Your 5 years Old Can't Pedal Bike?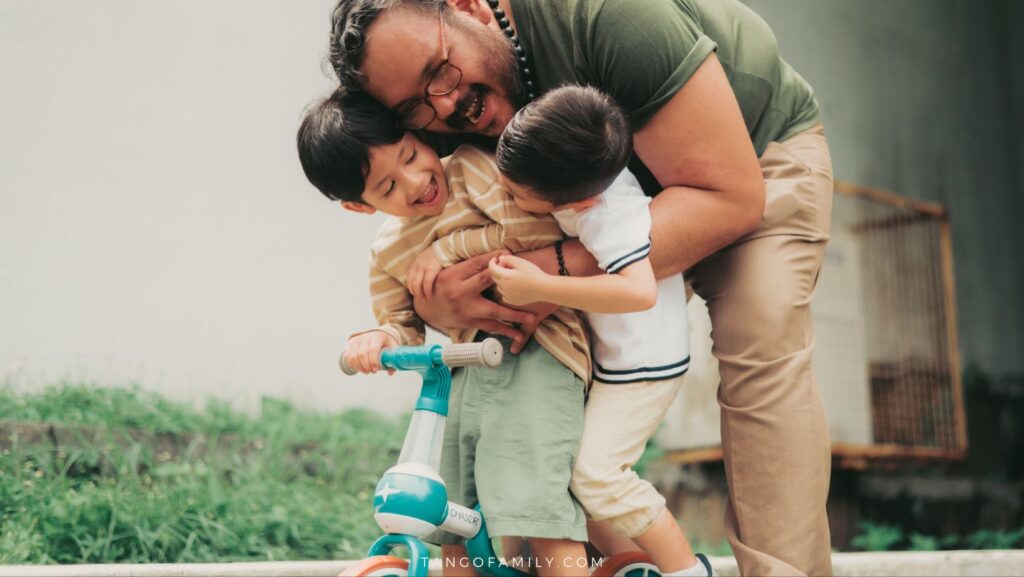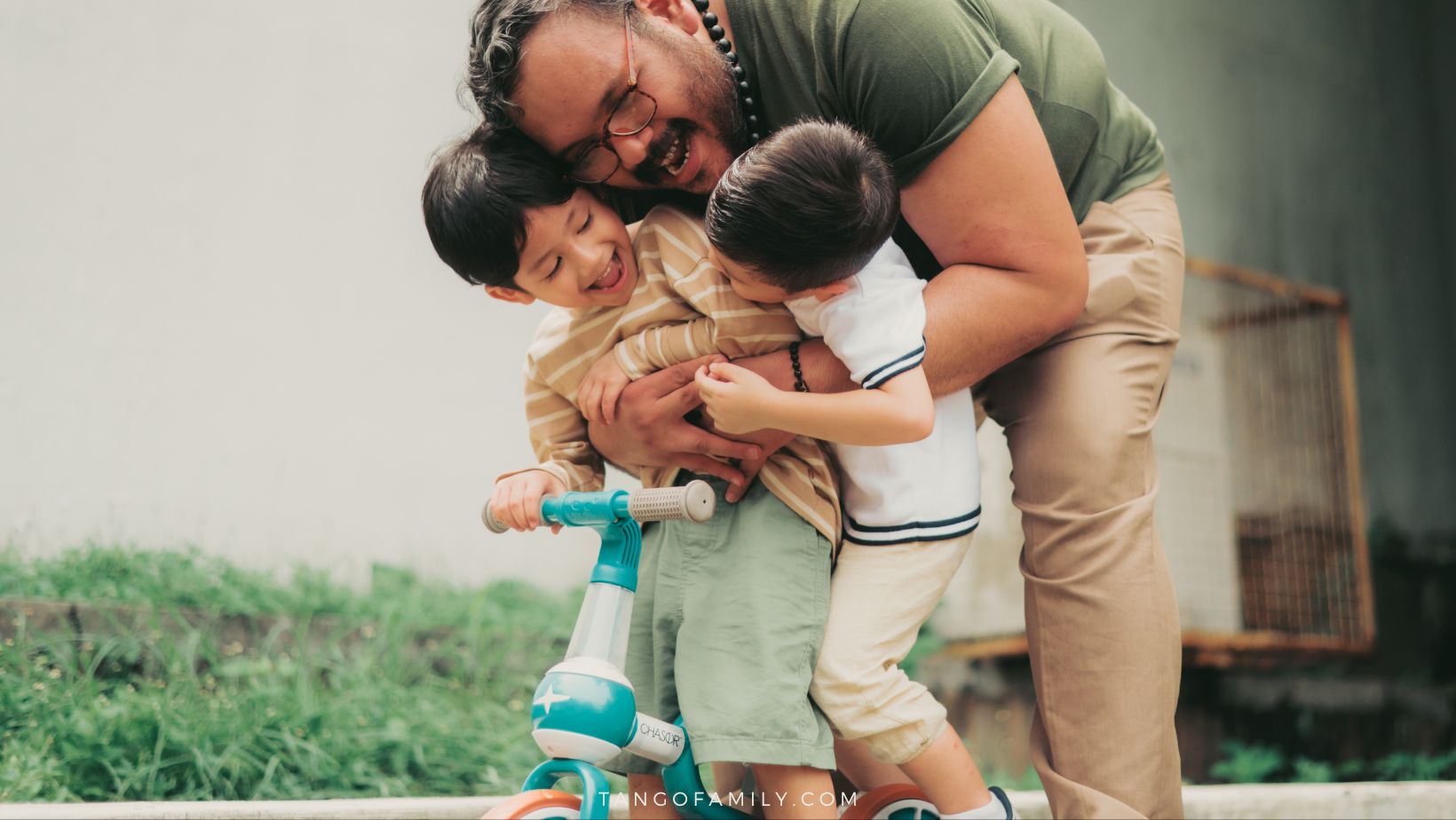 Start with the fundamentals when managing a 5-year-old who is unable to pedal a bike, such as balance exercises with training wheels or a balance bicycle are helpful if your 5 years old can't pedal a bike. Be patient and supportive they might need some time to pick it up.
Here's how you can let your kid pedal and enjoy the first ride:
See if your child is ready
Pick a comfortable area
Get the bike setup
Appreciate the first effort of your kid
Slowly let go but at the same time, be ready to hold if they fall.
Teach them to brake and turn
Let them try, try and try
Final Thought
In conclusion, how to teach riding a bike for kids can be a rewarding experience for both kids and parents. It's important to start with the fundamentals, such as practicing balance with training wheels before switching to a balancing bike. Every child is unique and may require more time than others, so patience, encouragement, and supervision are essential. You may aid your youngster in learning to ride a bike in a secure and pleasurable manner by paying attention to these pointers and recommendations. Keep in mind that practice makes perfect, and with time and patience, your youngster will soon be able to ride independently and with confidence.
Teach your kid with love & appreciation!
Don't forget to share your kid's biking journey with us and let us know how our guide helped you in teaching them. Your feedback matters to us and will help others too