If your child is bored by the same routine lunch and you are worried about it, then knock off your worries because you are in the right place. We are giving you exciting lunch box ideas, not only yummy but also healthy, and within your budget.
In contrast to this, giving your child money to buy some snacks from the school cafe is not a good option because they don't have a sense of choosing the right things to eat. Most kids buy fast food and sweet things. And this can cause diseases, later on. For your children, it's not a good idea.
So there are a lot of lunch box ideas for kids that are so healthy and yummy, both working women and housewives can make it so easy within very little time. And you can also involve your child in the whole, like shopping and making their lunch boxes, which will grow the ability to select and enjoy healthy food. You can also involve your kids in deciding the entire week's lunch menu. The colorful and yummy lunch increases the food craving of your kids.
The Motive Behind Healthy Lunch Box
Lunch is the most important meal of the day. It keeps kids more healthy and focused. It gives energy to your kids and kids give more concentration on their studies. According to the World Health Organization, healthy diets keep your kids from many chronic diseases like cancer, heart attack, and diabetes.
In order to make sure children have enough energy and the right nutrients to get through the school day, they need to eat a healthy, balanced lunch. However, the task is not always as simple as it appears.
Related Blog: Easy Party Ideas for Kids
Which Type Of Lunch Box is Better For Your Kid?
Plastic containers are not a good idea for packing food for your kids. Even though the lightweight and beautiful design looked very catchy, you have the power to say No to plastic lunch boxes. On the other side, glass containers are so heavy compared to plastic lunch boxes. Steel and Tupperware lunch boxes are perfect and safe for your kids.
Tricks to make Kids Eat Healthy Food without Noticing
Here we have simple tricks to make Kids Eat Healthy Food without Noticing:
Hide Veggies in the Food your Kids Like the Most
You can add finely chopped vegetables with meatballs, in chicken rolls, and also in a sandwich. You can also use this trick when you are making burgers. Which kids would say no to burgers?
If your child likes milk and yogurt but does not like fruit, then you make fruit puree and add it to yogurt. You can also make a smoothie.
Serve Healthy Food with Food your Child Like the most
Put different vegetables in pasta and spaghetti You can serve fruit or fruit puree with ice cream. You can also give a small portion of vegetables with chips.
Make Sweets, Chips, and other things that your Kids like the most as the Reward Of Eating Healthy Food
If your child is not eating healthy food, then you can tell him if you finished this meal, you can get a yummy treat.
Involves your Kids to Prepare the Small Dish
You can involve your kid in making food; you can give him small tasks like peeling fruits and cutting vegetables, etc.
Mistakes That Parents Make With Kids' Lunch Boxes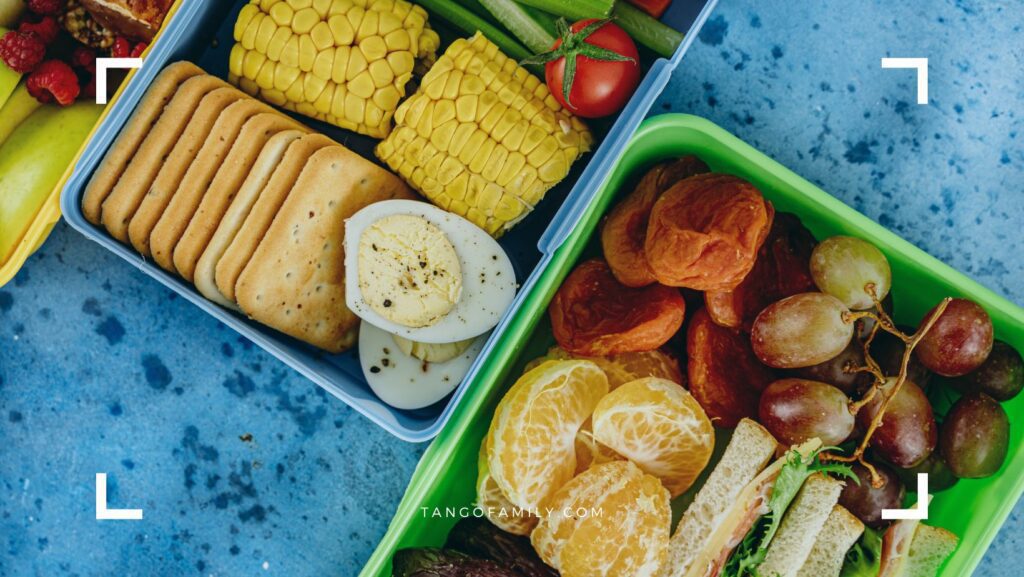 We have listed down some mistakes that parents make with lunch boxes which will be surely helpful for you to know:
Packing Food That Easily Spoils
Do not pack food in a kid's lunch box that is easily spoiled like yogurt. Avocado, rice, egg products, and rice. Kids never know whether lunch box food is fresh or spoiled; if they eat it, later on, it causes food poisoning and other many diseases.
Packing Food That Kids Never Like
If you pack food that kids never like, they do not eat it. So in the end, kids feel very hungry with a full lunch box. So it should be clear to all parents that kids' lunch boxes are not the place for experimentation.
Boring Food
Kids do not like boring and the same type of food daily. They feel more cravings when the lunch box is colorful and has a different variety of food in them. So you make different food combinations for each day.
Why a Balanced Diet is Important for Kids?
If your kids take a balanced and healthy diet, then there is very little chance they face any developing health problems when they grow up. A healthy and balanced diet contains 5 food groups: fruits, vegetables, grains, protein, and dairy. Food with high sugar, preservation, and fat is not good for your kids. Make sure you give a balanced diet to your child.
Our Favourite Lunch Box Ideas for Kids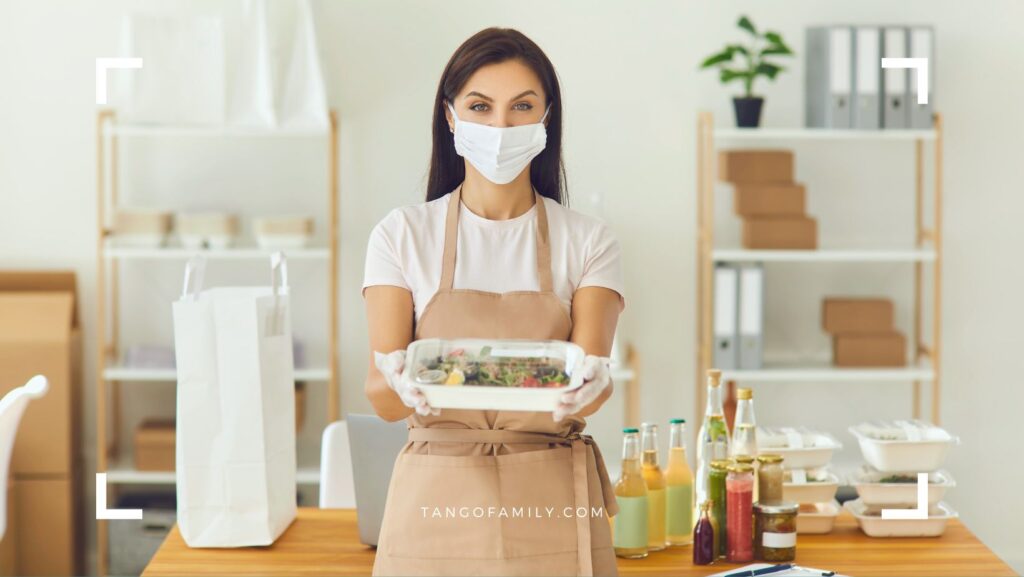 Here are some of our favorite fun and creative lunch box ideas for kids:
Chocolate-Covered Banana Pops
Sushi Wrap
Chicken and Vegetable Bread Roll
Healthy Brown Bread Sandwiches
Nut Bar
Creamy Fruits And Nut Chat
Almond Chocolate Bar Cupcake
Cheesy Bites
Nuggets
Pasta With Vegetable Puree
Dip with Veggies
Give a look: Snacks For Teenage Party: 10 Best Easy Snacks Ideas
Chocolate-Covered Banana Pops
Chocolate-covered banana pops are delicious and kids (of all ages) love them a lot. Rather than you give the pops that restore with preservations. Why does not make this at home in a healthy way? You can also use another fruit that your kids like a lot. It helps your kids to feel fuller. Bananas are a significant source of vitamin B6 and vitamin C.
Sushi Wrap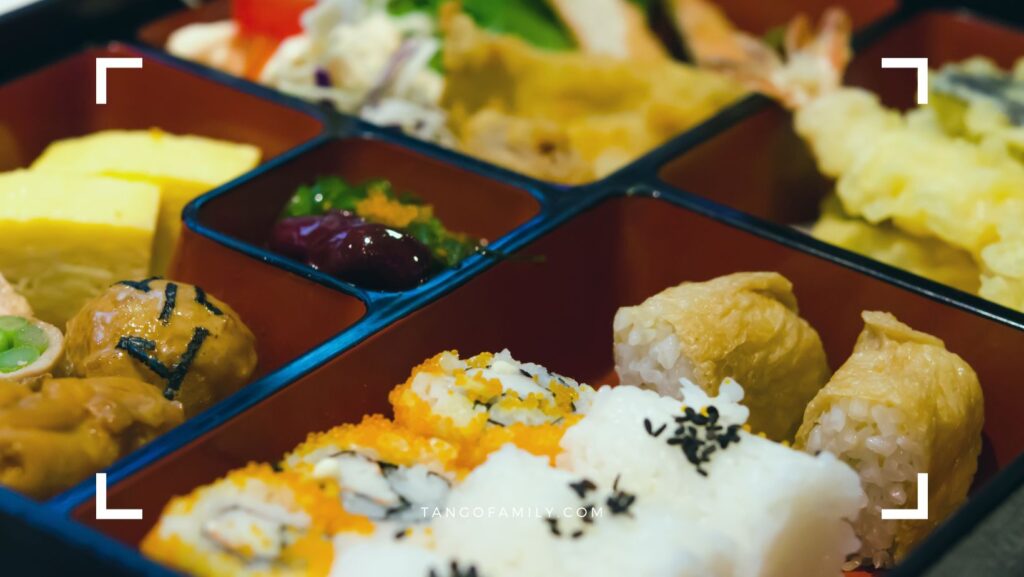 Take a whole wheat wrap packed with cooked rice and chopped cucumber, bell pepper, and avocado. Add your preferred protein, such as chicken or tofu, and firmly fold it up like a sushi roll. It should be divided into bite-sized pieces and placed in a lunchbox with soy sauce or peanut sauce on the side for dipping. Kids may experience the pleasures of sushi in a portable version with the help of this tasty and healthful meal.
Chicken and Vegetable Bread Roll
This is so simple and delightful that you can also fill the rolls with other stuff that your kids like the most, like butter jam and so on. Chicken is a great source of protein that builds the muscles of your child and additionally, vegetables provide folate and vitamin B to help for a healthy digestive system.
Healthy Brown Bread Sandwiches
You can use brown bread instead of white bread. Because brown bread is full of fiber that contains many other healthy nutrients like iron, magnesium, and other dietary fiber. You use brown bread with various fillings like chicken, vegetables, cheese, and others; your kids like most. You can also make it in different styles: toast, grill, etc.
Also Read Blog: Why should you plan fun activities at home for kids?
Nut Bar
Nut Bar is another great lunch box idea for kids. You use different nuts like walnut, cashew, almond, pumpkinseed, and others you want to add to the nut bar. It is a healthy and quick source of energy for your kids. Nut bars are also a significant source of fiber, fat, magnesium, and selenium, and also boost the immunity of your child.
Creamy Fruits And Nut Chat
Creamy fruits and nut chat are also other sumptuous meals for your kids. Fresh cream provides a weighty amount of vitamin B3 that supports the development of tissues. It also helps with the proper functioning of brain development. Almonds, pistachio, and walnuts are some common nuts that we use and are healthy and important nutrients for growing kids. provide crucial nutrients to the growing kids.
Almond Chocolate Bar Cupcake
This is a favorite snack for kids. 100% homemade snack that is healthy and tasty and your kids eat it with joy. Ingredients in it also provide energy and boost the immunity of kids. Almonds are a great source of riboflavin, fiber, and phosphorus.
You gonna love it: Incredible Ideas to Celebrate 3 Year's Old Birthday Party
Cheesy Bites
Kids love cheese even if they are on a pizza or sandwich. Cheesy bites are a marvelous idea for your kid's lunch box. They don't need to be hot again. You can add avocado and capsicum carrot to it. Cheese calcium, protein, and vitamin B12 have positive effects on your child's teeth, strengthen the bones, heal wounds, and normalize blood pressure.
Nuggets
Think yummy nuggets! You can use different sauces to make it super fun to eat for your kids. Nuggets are a source of protein that is very helpful for your kid's muscle formation. It also helps to improve eyesight, reduce the risk of cancer,
Pasta With Vegetable Puree
Yes! Pasta with vegetable puree is another snack for your kid's lunch box. In this way, your kids eat vegetables so easily. It is a significant sour of energy that is very important for your growing kids. It also provides fiber, vitamin B, and a small amount of protein.
Sides Dishes
Many kids feel lunch is incomplete without cookies and chips. These must be kept away from it. It should be only an occasional treat, not the primary food. Side dishes contain crispy green vegetables and fruits, which are a significant source of sugar. You can also fry some sweet potato and as well as make small pepperoni pizza at home. Mapple-roasted carrot is also an ideal side dish for kids.
Dip with Veggies
Pack a variety of fresh vegetables in your lunchbox, such as cucumber, bell pepper, carrot sticks, and celery. Include a pot of a nutritious dip, such as hummus, ranch dressing, or a dip made with yoghurt. This is a straightforward and hassle-free lunch choice for kids that offers a decent mix of nutrients and is a fun way to get kids to try new vegetables with various dips. To accompany the vegetable sticks, you may also include some pita bread or crackers.
Winter—Fun, and Food Ideas
In winter, you can make many snowy winter-based cupcakes, snowmen, and penguin-themed designs on cookies. You can also make some soups that are enriched with vegetables and chicken. In the afternoon, you can also make hot chocolate as a treat for your kids. You also make banana bread for your kids.
Frequently Asked Questions (FAQ)
1. What is the best method to pack chapati in a lunch box?
Wrap rotis in parchment paper while they're still hot to avoid drying. Aluminum foil should not be used since it is not eco-friendly.
2. Which lunchbox is ideal for putting together children's lunches?
There are thermos-equipped and divided lunch boxes on the market. Personally, I like using plastic containers made without BPA or stainless steel.
3. Where can I get suggestions for lunchboxes for children?
Pinterest offers a huge selection of ideas. You can use them as models and modify them to suit your kids' preferences.
4. Is it acceptable to bring non-vegetarian lunch food?
5. In contrast to chicken or other non-vegetarian foods, which might result in food illness or unpleasant aromas when the lunch box is opened, I prefer to carry eggs in my children's lunch boxes.
5. How can I guarantee that my child's lunch is both safe and fresh?
The goal is to keep perishables cool. Pack a frozen gel pack or frozen juice box to keep the lunch box cool, and make sure to refrigerate leftovers before packing them. Avoid packing perishable items that are likely to spoil quickly, such as mayonnaise or dairy products.
Conclusion
Healthy lunch boxes help not only strengthen physical health but also decrease susceptibility to disease. Healthy food helps in mental development and your kids move toward academic success. On the other hand, unhealthy food makes your kids mentally and physically weaker, and diseases strike your kids early.